Air Flow System Problem Solver: Your Facility's Air System Components
Tiny air particles are a major threat to your facility. Many plants lack proper point-of-use airline filtration – and you may not even know it.
Many of these contaminants can't be compressed. So they become even more concentrated as they move at high speed through air lines, causing accelerated wear, eroding lubrication and potentially forcing equipment offline.
That's what makes clean air such an essential ingredient in the effective operation of equipment and machinery. The most productive facilities trust ARO-Flo FRLs. Air flows better through ARO-Flo Series Filters, Regulators and Lubricators (FRL) than almost any other air filtration device.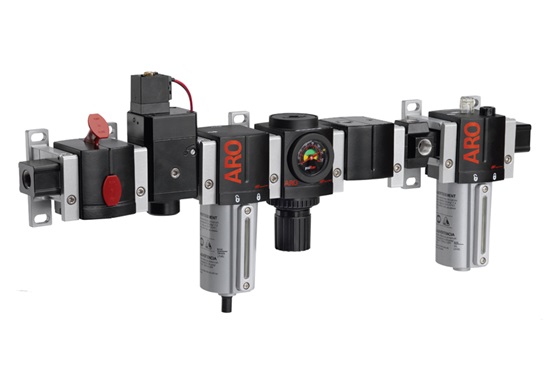 Modularity: All ARO-Flo accessories integrate with each other within each size range. Your complete FRL assembly and its individual components can be easily, safely, and quickly assembled or disassembled with minimum tools.
Performance: Air flows better through ARO-Flo filters, regulators, and lubricators than almost any other air filtration device. This means less pressure drops during the air preparation process, so your equipment can operate at its peak performance.
Safety: Providing safe tools and equipment is our top priority. ARO-Flo FRLs feature integrated safety features such as locking bowls. Clear multilingual markings and optional accessories further allow the air supply to be safely managed and controlled.
ARO-Flo Series sets the standard for air flow performance. These FRL solutions can keep your facility online and your equipment in shape. We combined best-in-class air flow performance with the flexibility to work in any environment.
Products Primed for Performance
Like every ARO product, the ARO-Flo Series are premium products built to deliver top-quality and peak performance for your operation. These solutions give you excellent means of keeping your air supply in top condition, enabling your tools and equipment to work every time you need them.
Filters
ARO-Flo compressed air filters remove airborne solid and liquid contaminants. Filters can be ordered with different elements, including coalescing models which are capable of removing oil aerosols and particles down to 0.3 micron. Standard filters come with 5-micron elements; 40-micron elements can be purchased and installed separately.
Regulators
Air line regulators provide the controlled consistent air pressure required for specific pneumatic equipment connected to the air system. All ARO-Flo regulators come with a standard adjustment range of 0-140 psig (0-9.6 bar). They offer large integral flush mount gauges.
Alternative spring ranges are offered for easy conversion to suit different requirements. Non-relieving regulators are offered for applications where the venting of downstream pressure is undesirable.
Lubricators
ARO-Flo mist-type lubricators help ensure that pneumatic devices receive the required lubrication to maintain peak performance, reduce wear and prolong service life. They provide the correct amount of oil required for most general applications in a pneumatic system, delivering a constant ratio of oil to air flow. Precise oil feed adjustment sets the proper oil drip rate. Install your lubricators close to the downstream application to ensure effective distribution of oil.
Filter-Regulator "Piggybacks"

Filter-regulator, or "piggybacks," combine the functions of both a filter and regulator. Piggybacks are compact and most effective when space is a constraint. Piggybacks can be ordered with different filter elements and can be modified with different springs, depending on the filtration and air regulating requirements.
2- & 3-Piece Combination Units

Filters, regulators, lubricators and piggybacks can be combined to form combination units. They are typically strung together in the F+R+L arrangement (three-piece combo) and F/R+L (two-piece combo) arrangement. Other configurations also may be used depending on application needs. ARO-Flo combination FRLs are easily assembled using modular spacer kits.
ARO-Flo Series of Filters, Regulators, Lubricators and select accessories can be used in hazardous locations requiring ATEX compliance, keeping your employees safe and your operation running. Ingersoll Rand attests that ARO-Flo Series of filters, regulators, lubricators (1000, 1500, 2000, 3000 Series) and select accessories are out of scope for ATEX Directive 94/9/EEC or 2014/34/EU. The products listed in the form IRITS-1215-197 certificate can be used in group II, category 2 environment; Gas and Dust with temperature a T6 (Ex II 2GD T6) if all conditions set up in the Instruction Manual are met. Instruction manuals and ATEX declaration certificates can be found in the Document Library.