PFS leadership partners with global non-profit to provide clean water to remote village
January 28, 2020 – Volunteers from Ingersoll Rand's Precision Flow Systems (PFS) business unit, including ARO leadership, recently teamed up to provide safe drinking water to a remote village in Vietnam.
The project marked the start of an ongoing collaboration with Planet Water Foundation, a global non-profit that has provided clean water systems to more than 1,250 communities in 15 countries.
During a recent meeting in Vietnam, the PFS leadership team traveled to Nguyen Tra Primary School in Binh Son Village, a 2-hour bus ride away from the beach resorts of Da Nang, through miles of rice fields and up winding mountain roads, where cows and chickens grazed by the roadside.
Nguyen Tra serves approximately 350 students in a remote village in the Quang Nam Province. The school's well had become contaminated, so parents and administrators were obligated to provide bottled water for the students, explained Kristen Steele, vice president of education for Planet Water. The cost was an added burden for many families who were already struggling to make ends meet, she said.
Building an AquaTower
The sounds of children singing and reciting lessons drifted through open classroom doors as 18 PFS volunteers assembled a new water tower and gravity-based filtration system.
The modular AquaTower system includes drainage troughs, six faucets and integrated soap dispensers. It operates without electricity, using a pump to carry untreated water from the well to the tower. The water flows down to the faucets, passing through a filter that makes it safe for drinking and hand washing.
The tower produces up to 2,600 gallons (10,000 liters) of clean water a day — enough daily drinking water for 1,000 people.
"The impact of this project is huge," said Mark Steele, Planet Water CEO. "This will supply water not only to the school, but to the surrounding community as well."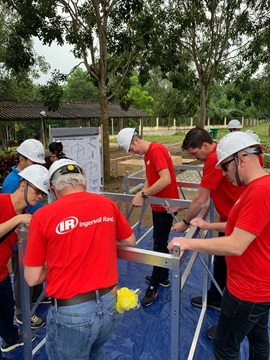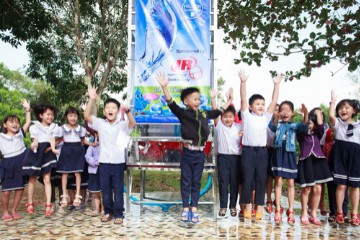 Children from Nguyen Tra Primary School celebrate the arrival of safe drinking water at their school.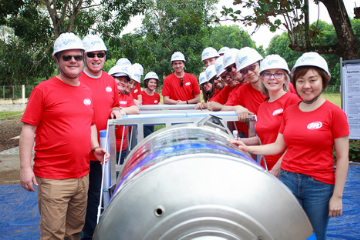 The water tower installation is almost complete.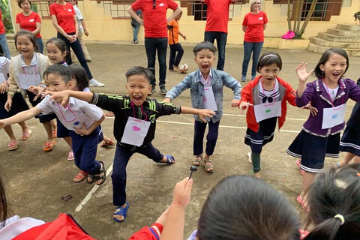 Nguyen Tra Primary School students learn how germs are spread through hygiene games.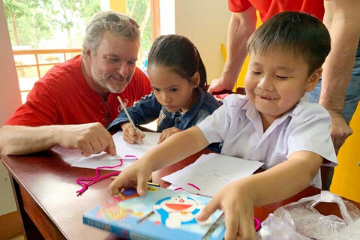 PFS leadership team join students for crafts and activities that teach the importance of hygiene.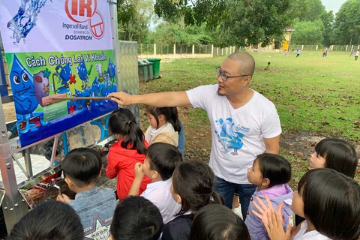 A Planet Water educator instructs students in proper hand washing techniques at the newly completed water tower.
Corporate citizenship and sustainability
Planet Water team members will return to the school every four months for the next five years to provide maintenance and training. Children will receive four weeks of hygiene education through games, songs, dance and more.
PFS leaders plan to join with Planet Water to install 2-3 AquaTower systems a year in regions around the globe.
"Working with Planet Water Foundation to build a water tower for this community was a rewarding experience for the team," said Nick Kendall-Jones, president of PFS. "This initiative is also aligned with our business objectives in the water segment, and it supports our company values around citizenship and sustainability."
Jonathan Wiechers, ARO vice president, called the experience "humbling."
"Clean water is a vital resource that people often take for granted," he said. "To see the excitement and appreciation on so many faces was incredibly moving. Our people, teams and brands are truly making a difference when it comes to providing clean drinking water globally, and we should be proud of that."
The PFS leadership team stands with the school children, teachers and administrators to mark the completion of the water tower installation project.