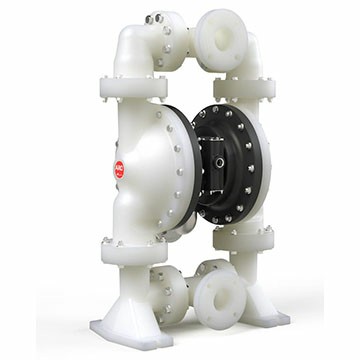 Now Available: 3″ Non-Metallic EXP Series Diaphragm Pump
ARO has expanded its line of EXP Series pumps with the new 3″ non-metallic diaphragm pump. Designed for chemical and water processing applications, the 3″ non-metallic pump can transfer up to 285 gpm (1079 lpm) of fluid without causing the type of damage possible from smaller capacity pumps that use higher pressure.
EXP is Automation Ready
All EXP Series pumps are enhanced with electronic interface capability, providing accurate, electronically controlled dosing. Combine our pump with the ARO Controller or a PLC or PC based system and switch from inaccurate, inefficient manual processes to intelligent fluid management.
EXP is compatible with almost any automation system
Electronic Interface Pumps are now available for hazardous duty environments (ATEX, NEC, and CEC certifications)
Leak detection option certified for use in ATEX/ and NEC/CEC locations detects diaphragm failure to help reduce costly production downtime
Internal cycle sensor and end-of-stroke signals track end-of-stroke feedback and pump data
Preassembled components for hassle-free and error-proof installation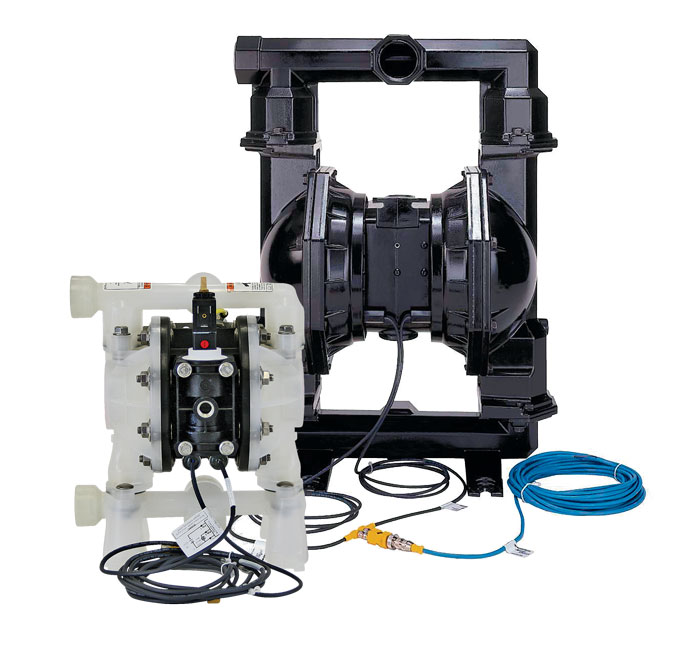 Exclusive ARO® Quick Dump™ Valve
Our EXP Series diaphragm pumps feature an exclusive to ARO® Quick Dump™ valve that reduces icing by keeping cold exhaust air out of the air motor. This patented feature improves reliability and durability when running your pumps at high speeds to reduce downtime and maintenance.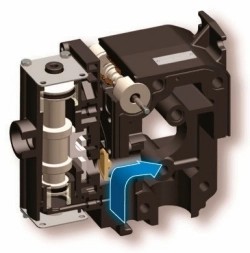 Solenoid in the Air Valve

What is the advantage?The solenoid actuation allows for accurate cycle rate control and provides a more consistent volume per stroke than is achieved with standard pumps. Additionally, solenoid control allows for a precise number of cycles to be fully completed for improved batch repeatability.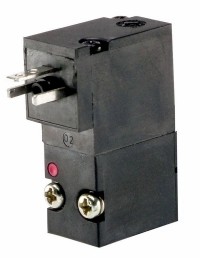 All 1/4″ – 2″ Non-metallic PD pumps are now upgradeable!
PD pumps are manufactured such that solenoid operation, flow monitoring and leak detection functionality can be added at a later date. As your processes mature, this capability allows you to enhance manually operated processes to incorporate additional control and monitoring capabilities. Simply remove two plugs and replace with a proximity sensor and (or) leak detector. Once upgraded, these components can also be integrated with the ARO controller for seamless integration.